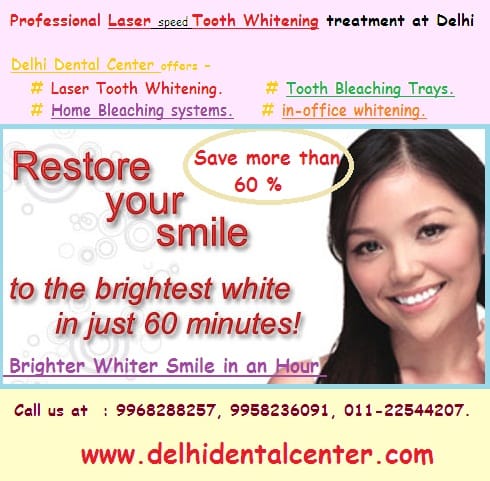 Treatment For Dis-Colored Teeth
Tooth discoloration and staining is a relatively common problem. Teeth are porous and are therefore not stain resistant. Your lifestyle and the aging process can stain and darken your teeth.
Many things we do on a regular basis can contribute to stained teeth, such as  —
Drinking too much of coffee & tea,
Having too much of soft drinks specially black onces…
Red wine.
Heavy smoking.

You may feel that your teeth are too discolored to ever be white again, but we are achieving amazing results with the newest whitening techniques. In today advancement in technologies, there is a variety of smile whitening methods and technologies.
This can affect our confidence and smile in more ways than one.
So, why not whiten your smile to give you a more confident glow by taking advantage of our affordable, painless, peroxide free and results guaranteed teeth whitening treatment!
INSTANT RESULTS!
You can expect to go up to 6-10 shades whiter.
We utilize a state of the art L.E.D Laser lamp to ensure we can bring out the maximum whiteness in your teeth
Delhi Dental Center offers a comfortable and friendly service and we do everything we can to ensure that all customers are happy and satisfied with our service.
Your stained smile can easily be whitened in a number of ways  ::::
Dental Whitening treatment procedures,
Instant Teeth whitening procedures,
Home tooth Whitening,
Bleaching Trays,
Tooth Bleaching
Cool Light Whitening,
Laser Teeth Whitening.
Phone today / email today for a free, full consultation and prepare for a brighter, whiter smile !
For details and more information regarding treatment needs you can contact —
Dr.  AMIT GOSWAMI
DELHI DENTAL CENTER
76,RADHEY PURI, EXTENSION – 1.
Opp. Subway, Near Jagat Puri red light
Preet Vihar Metro Station .
EAST – DELHI
PH. — 0091 — 9968288257.     –    0091–11-22544207  ,
Website    —    www.delhidentalcenter.com
Email I.D   —    delhidentalcenter@gmail.com