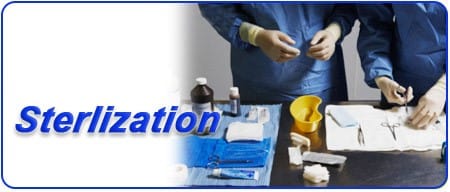 World class strict Sterilization at Dental Clinic in Delhi, India.
At our Dental Skin Laser Clinic in Delhi – Delhi Dental Center, our patient's safety is our number one priority and so we pay a very close attention to Sterilization, Disinfection and infection control.
Sterilization is described as a process that destroys or eliminates all forms of microbial life. Disinfection means a process that eliminates many or all pathogenic microorganisms. Sterilization is a very essential process during a dental procedure. It reduces the potential risk of transmission of diseases which may occur due to living micro-organism deadliest bacteria & viruses.
As a dedicated leading specialist dental surgeons' team in Delhi, we are concerned about protecting our patients from infectious diseases. Our sterilization standards are in line with those laid out for practicing dental surgeries in the United Kingdom and The United States of America. We follow strict Instrument sterilization procedures and use the latest and best dental materials available in the dentistry today.

We are constantly evaluating and updating our sterilization procedures.

Surgery Upkeep
We have 2 dental chairs in our surgeries. At our clinic there is no carpeting on the floor to trap bacteria and at the beginning of the day the floors are thoroughly scrubbed with scented Phenol which leaves the place clean and smelling fresh. The chairs and all moving/rotating parts are sprayed with antiseptic solution and wiped clean with a soft cloth. After every patient the same procedure is followed for the chairs to prevent cross infection. Between each patient, the treatment rooms are thoroughly cleaned and disinfected. First, all debris is wiped off of all countertops and any surface that may have been contaminated. Then, a disinfectant is sprayed on all surfaces.
Instrument Sterilization
All instruments are thoroughly washed in antiseptic solutions and wiped clean. They are the packaged into sterile pouches and vacuum sealed to prevent contamination. The instruments are then placed into an autoclave and autoclaved at 121 degrees. At this temperature all known disease causing bacteria are known to be killed. This is the standard autoclaving procedure followed in Operation Theatres worldwide. Modern equipments that we have are:
Glass Bed Sterilizer – It sterilizes all instruments within seconds.
Autoclave – Kills all spores and viruses which may not go by boiling.
Chemical Sterlization
Ultra Violet Chamber – To maintain sterlization.
Formalin Chamber
Boiler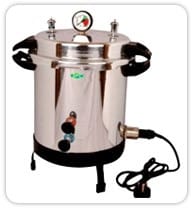 Disposable materials
We use a fresh, new pair of gloves for every patient that is disposed of immediately after the treatment is completed. All gloves are torn as well so there is no question of whether any of them were ever used before. This is all done in front of every patient. In addition, we use disposable masks, suction tips and plastic glasses. All local anaesthetic is given from sealed syringes that are opened in front of you and disposed of, immediately after treatment. Dentists and patients mandatorily wear "Blue Blockers" (glasses) during tooth whitening procedures to prevent any harm to the eyes. We also use bottled water for rinsing your mouth during procedures.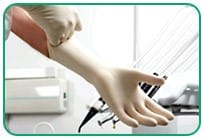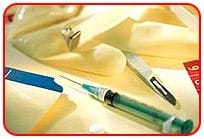 Clean Water :
At our Dental Clinic in East Delhi – Delhi Dental center, all dental procedures are carried out using water from reverse osmosis system instead of water from the tap. Our water system is designed with special filters and certain disposable parts to ensure that the water supply for each patient is free from disease causing agents.
Special Cleaning of Dental Handpieces :
After each use, we follow special procedures for cleaning our hand pieces (the dental drills). The handpiece is flushed with water and scrubbed with detergent and hot water. A cleaner/lubricant is sprayed into the handpiece. The handpiece is then sterilized using special piece of equipment called an autoclave.
By making you more aware of the measures being taken by us for your protection, we hope that your trust and confidence in our team will make your visits a bit more comfortable.
Please feel free to contact our office if you have any further questions concerning our sterilization methods