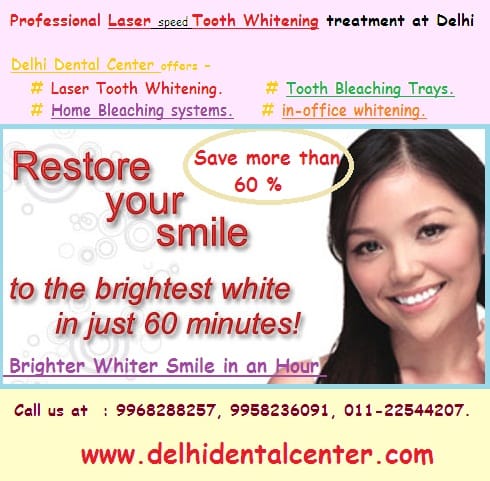 Teeth Whitening Delhi
Dr. Goswami's – Teeth Whitening Delhi treatment procedure, is done by one of the Leading Painless, Instant, in-office, One Hour, single visit, Laser Teeth Whitening and Home Bleaching Treatment Procedure specialist teeth whitening Dentist in Delhi, at Teeth Whitening Dental Clinic in Delhi India.
We would like to help you achieve that winning smile, you are waiting for that long.
We as a teeth whitening Delhi dentist, work as a team with a patient – centered treatment approach. To give the best possible teeth whitening results to our patients as well as for our own professional growth at our clinic, we regularly update our skills, procure new materials and technologies for tooth whitening.
Dr. Goswami's — Delhi Dental Center – one of the top specialized Tooth Whitening Treatment Dental Clinic in East Delhi India, welcome people searching for Tooth Whitening Delhi, Laser tooth whitening Delhi, teeth whitening Delhi, tooth whitening Clinic in Delhi, Teeth whitening Dentist in Delhi, tooth whitening Dental Clinic in Delhi, for their stained or dis-coloured teeth.
Same team — Affordable cost — Same location since last 21 yrs. (est. 2000).
That's the real beauty of getting Tooth Whitening from Delhi Dental Center.
Call us at :: 0091 – 11-22544207 , 0091- 9968288257.
Email us at :: delhidentalcenter@gmail.com
Website :: https://www.delhidentalcenter.com/tooth-teeth-whitening-new-delhi-india
:: https://delhihomoeopathy.com/tooth-whitening-specialist-dentist-dental-clinic-delhi-india/